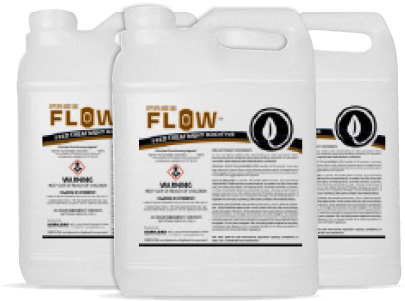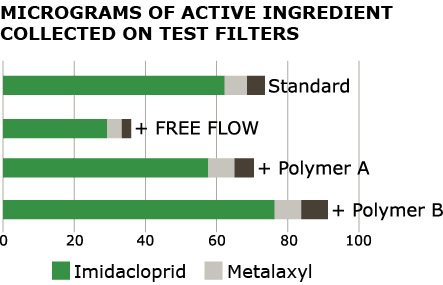 Acceleron® Fungicide and Insecticide Seed Treatment Products (standard custom blend) alone and in combination with FREE FLOW and two competitive polymer products.
Acceleron® is a registered trademark of Monsanto Technology LLC.
FREE FLOWING PRODUCT;
FREE FLOWING SEED 
FREE FLOW performs by enhancing treatment coverage and dries as a hardened water soluble film on the treated seed coat.
Treated seed with FREE FLOW added to the mix flows and plants better with less susceptibility to dust-off.
FREE FLOW
FREE FLOW is different than most other "polymer" products that are difficult to handle and prone to settling in the container. FREE FLOW remains free-flowing in the jug before use & helps seed remain free flowing after treatment. 
FREE FLOW is broadly compatible with insecticides, fungicides, nematicides, plant growth regulators, biologicals, and other seed treatment products labeled for slurried seed treatment.
FREE FLOW is designed for use on a broad range of crops and is especially effective in applications with soybeans as well as with high volume treatment applications such as those used on cotton.
Typical Application Rates:  Soybeans 0.75 oz/100 | Cotton 1.00 oz/100
FALL 2014 TREATED SOYBEANS DUST-OFF EVALUATION
FREE FLOW suppressed active ingredient dust-off compared to the standard treatment by 50% and outperformed competitive "polymer" products. Dust-Off collection filter residue analysis was completed by Bio Diagnostics (Eurofins); analytical method HPLC treatment concentration.